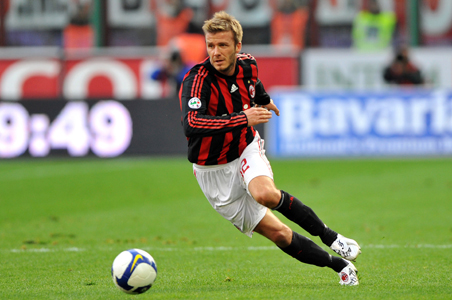 AC Milan 1 Chievo 0
We have probably seen the last of David Beckham as a Milan player. A phenomenon of sorts, he was given a king's reception when he first arrived at the club. But his departure wasn't scripted as fabulously as his arrival was. I have personally considered him to be a pop star's hubby, a fashion figure. But seeing him play for Milan, giving his all at 34, made me think, he is one guy who actually deserves all the hoo ha he gets. Sadly, it's all over.
Injuries piled, as Beckham was given a start. Milan wanted to redeem some pride after the forgettable night at Old Trafford. The tempo that Milan played at the San Siro was quite high. Clattered challenges and disrupted play not providing for pleasurable viewing, neither keeper was being tested. Chievo were given time and space to play and almost punished us, as their shot hit the post. Instead of controlling the game, we were rushing into attacks not utilizing possession well. It appeared as though some amateur was playing FIFA 10. Beckham's work rate and heart was admirable, truly motivating. Leo decided to go ultra-offensive, as he brought on Inzaghi for Gattuso. Second half was more purposeful, but we couldn't do anything with our chances as Yepes was marking Borriello strongly. Pirlo's characteristic pointless performances amaze me as to how he lasts on the pitch for the whole game. Beckham had a glorious chance as the wonderful pass from Ronaldinho was begging to be put away. But, well he didn't take it. Inzaghi could have easily had a hatrick. The veteran has clearly lost his touch. Seedorf comes off the bench and scores with a pile driver! Oh, what a delightful sight that was. The noise at the San Siro was deafening. I suppose this indicates how much the Scudetto means to the tifosi.
With Becks out, we are now in serious problems concerning fielding a strong 11 and having a decent bench. We aren't famous for squad depth, and now that the top spot is only a sniff away, it would be a shame if we didn't contend for the title till the end. Inter's progression in the Champions League is a good sign for Italian football but more so for us. They can continue staying distracted and dropping points as we breathe down their necks. Napoli next, but with Pato and Seedorf returning to main team, our firearms are locked and loaded.