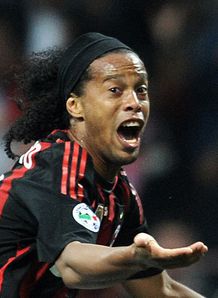 Ronaldinho
AC Milan 1 Fiorentina 0
It's safe to say, Milan have been incredibly unpredictable this season. Just like how Fiorentina have been incredibly indifferent this season. Explains why this result surprises me and doesn't, both at the same time. If calculations be regarded, this was supposed to end in Fiorentina's favor. They have a better team, a better coach and are more driven than we are. But here we are, securing a place in next season's Champions League, arguably, undeservedly.
With Leo set to leave at the end of this season (thank goodness!), the team are adamant to end this season with 'honor'. I chuckle everytime I read/write that statement. Well, they have taken one step closer with this result. Our best player this season stood out, once again and won the game for us. I must admit that it would have been relatively easier for him with 3/4 first team opposition defenders out with injury. A few realizations dawned upon me after this game. Zambrotta and Antonini should take skating lessons; they are used to falling on the pitch when they are expected to stand tall and defend. Borriello can be transferred to a mid table team where he can be a 'prolific' hitman, because the number of chances he squanders, if converted can win us the Scudetto for the next 3 seasons. Huntelaar is over-rated, period. Seedorf needs to be reminded of his age and shown periodically where the goal actually is. Finally coming to Pirlo, he can be cast in a Hollywood flick as an invisible character. Think horror, slasher flick? Pirlo can rake millions because he is perenially anonymous. He would create a niche for himself in the industry. Not to mention the number of hours he spends at the salon when he should be practicing his set pieces.
With 2 games to go, I can't wait for this campaign to end. Ridiculed, insulted, torn apart, frustrated, humiliated, angered. Some of the feelings that I have experienced. With Leo leaving, these feelings might not necessarily reduce in intensity, but surely in number. Anyway, let's focus on Juventus and Genoa. Honor? We'll see.

AC Milan
- Ronaldinho 78' pen
Fiorentina
- /
http://www.youtube.com/watch?v=er7XsNwSaq8