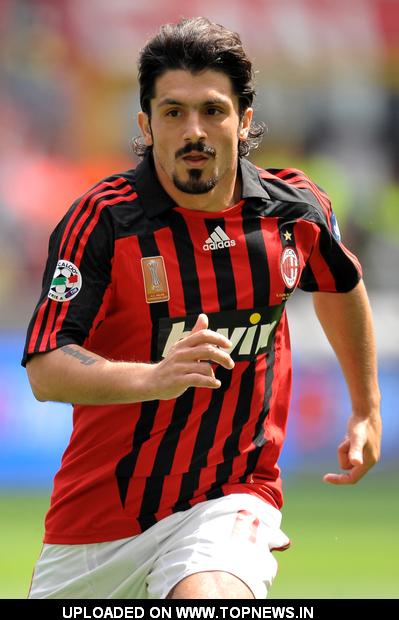 Gennaro Ivan Gattuso
Gattuso arrived at Milan in 1999. It was the brink of a new millennium, a new era and would mark the start of a terrifying player in the legendary red and black. Known for being a 'terrier', the small yet intimidating hard-man has frightened some of the best players since his arrival. 10 long years of service, cannot be over-looked. So, maybe him receiving a contract extension till 2012 is justified and a worthy reward. Not really.
I have problems with this deal. Firstly, the manner in which it was received. Gattuso went about like a spoilt brat, creating a scene in the media over his lack of playing time and about him being treated like a newbie especially when he is a senior member. Mr. Gattuso, chances are provided based on merit, not on seniority. Such is the case in all the big clubs across the continent. His lack of playing time is down to two main reasons, one - he was injured. Two - he isn't good enough. Gattuso has been anonymous for the
Azzuri
since the World Cup, forcing Lippi to look at alternatives. And for the last 2 seasons, he has replicated that form for AC Milan too. The ex-Rangers man was a destroyer. Please note,
was
. He used to run around hacking people down averaging 32 tackles a game, which made him one of the most feared defensive midfielders in the world. It also attained him world class status. But this was a good two years ago, when he had the legs for the job. Now, he simply trots along hacking players down and winning cards in return. Very often, he watches players sprinting by while he is reduced to a mere spectator. Yes, he still is destructive, but in a different sense. He no longer plays the role of Pirlo's bodyguard with the formerly superior level of professionalism. And in Leo's new system, you need someone who is more than just a bodyguard. You need a box-box midfielder, a role Ambrosini plays with almost utmost perfection. Leo's selection is therefore justified.
We talk about building a new team, a futuristic one. How is offering a new deal (even if its at reduced wages) to a 31 year old, building a team for the future? We have a ready made replacement in Flamini, who we acquired at no cost. Yes,
Rino
is iconic for this club. Yes, he has been instrumental in previous triumphs. But he isn't going to scale any new heights and even a blind man can see that. The modern game needs legs, and also a dose of quality; both of which are missing in large quantities. AC Milan need to start living on today's realities rather than on past glories. Gattuso might have bullied his way to a new contract which keeps him at the club for another 2 seasons. Question is, can he be the bully that we need on the pitch? My guess, and that being a calculated one is, no!